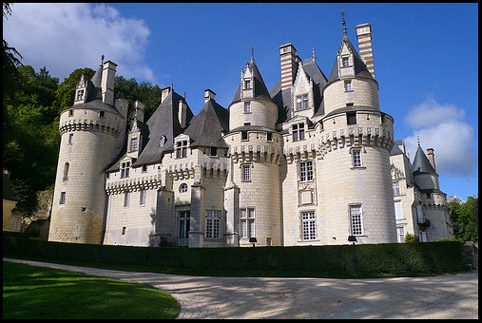 Once upon a time, at the edge of a dark forest, lived a beautiful princess. She lived in a beautiful castle that sat on a hill overlooking watery meadows and dark forest. She lived at Château Ussé!
Well, not really. No true princess ever lived here. But if you like fairytales, you'd better stop by this Loire Valley favorite. With its romantic white turrets, and pointed towers and chimneys, Château Ussé is said to have inspired Charles Perrault's Sleeping Beauty after he visited it in the 17th century.
For obvious reasons, the château will be most popular with children, who will appreciate the many Sleeping Beauty displays. But it's for the young at heart too, and makes a great family trip!
---
When to Go
Mid-February through early-November.
The château is open February 17 through March 31, and October 1 through November 4, from 10:00 am to 6:00 pm. The château is open until 7:00 pm from April 1 through September 30.
Château Ussé is closed November 5 through February 16.
The monument makes a great visit for families, but be prepared to climb many stairs, as the château is quite compact.
---
Cost
Entrance is €14 for adults,  €4 for children 8 to 16, and €3,50 for children up to 16.
---
History of Château Ussé
Château Ussé was originally constructed in the 15th century as a fortress, with complex steeples, turrets, towers, and dormers.
Gradually, it was transformed into an aristocratic château.
Its terraces, laden with orange trees, were laid out in the 18th century. The château was once owned by the duc de Duras, then Mme de la Rochejacquelin.
It is still privately owned, currently by the marquis de Blacas, who has opened many of its rooms to the public.
---
What to See
The Royal Apartments and Tower
Guided tours begin in the delightful renaissance chapel.  The chapel features a sculptured entrance and attractive stalls, and is framed by the oak forest of Chinon.  The tour then proceeds to the Royal Apartments, once inhabitated by wealthy French aristocrats. The apartments are furnished with many tapestries and antiques. If you're interested, one gallery has an extensive collection of swords and rifles.
A spiral stairway leads to the tower with a wonderful panoramic view of the river, and a waxwork Sleeping Beauty waiting for her prince to come. A must see for the little ones!
At times, the sunless and misty interiors of the château may be disappointing. For a more captivating experience, wander the formal gardens. They were designed by famed landscape artist Andre Le Notre, who also designed the gardens at Versailles and Chantilly.
The gardens are really beautiful and a stroll in them is a peaceful and relaxing experience. I recommend it!