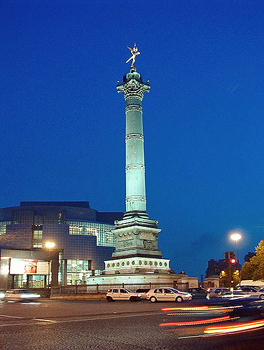 I  love nothing more than to sit at a trendy cafe, sipping coffee, and watching the world go by.  At the Place de la Bastille, you can do just that!
If you love cafes like I do – or shopping, or a happening evening hotspot – this may be the place for you. It has it all!
With all the hustle and bustle at this spot, it is hard to imagine the significance of this place.  Sure, it has great shopping, food, drink, and lots to do. But did you know it also has a very important history?  This is one of the most famous spots in Paris, and a pivotal part of French history. It is where the French Revolution began.
So, sit back and relax, enjoy your coffee, and learn a little more about french history. After that? Go shopping!
---
History of the Place de la Bastille
The Bastille was built during the 100 years war in 1370 as a fortress guarding the eastern entrance into Paris.
Later on, it became a jail. Many prisoners were kept here, some sentenced for "witchcraft" by King Louis XIV. The best known prisoner is known only as "The Man in Iron Mask", and his time in the prison (and suggestions for his possible identity) have been chronicled in print and film alike.
Political prisoners, such as the Marquis de Sade and Voltaire, were also kept at the Bastille. The Bastille soon became a symbol of royal power and oppression.
The confrontation between the royals and the commoners ultimately led to rebellion, with the French people storming the fortress on July 14, 1789, beginning the French Revolution.
Today, nothing remains of the building, but paved stones mark its outline. A Colonne de Juillet (July column), topped by the Winged Spirit of Liberty, was erected in 1840 as a reminder of France's turbulent past, and to commemorate victims of another revolt, the 1830 uprising.
Every July 14, the French celebrate Bastille Day, in remembrance of the French Revolution.
---
Things to Do
Visit an art gallery
Go to the Opera
Shop at the open air market
Eat, drink, and be merry!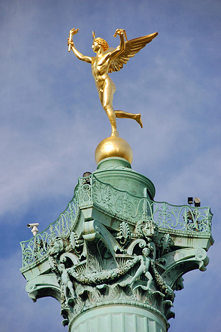 Place de la Bastille has been spruced up since its earlier days. It is now one of Paris's busiest hot spots, and hosts a wide choice of restaurants and bars.
During the day, check out the shops in the streets near the Colonne de Juillet. You can also visit the nearby marina and Opera Bastille. There are also many art galleries and street cafes to strike your fancy.
On weekdays, a large open-air market occupies part of the park to the north of Place de la Bastille. Here you can find fresh fruit, cheese, bread, meat, and fish, along with clothing and other typical flea market finds.
On the weekends, the market is made up of artists and craft makers.