Decisions, decisions! France is home to so many things: great food, compelling art, and spectacular sights. I find it hard deciding what to see first! Still, I can't ignore one of the things I love best about France – the amazing architecture and history of the buildings and monuments.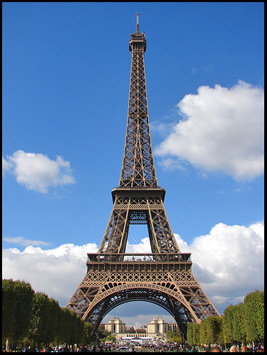 There are many, many famous French monuments. In fact, French monuments are among the most recognizable in the world.

You probably already know that many of France's monuments are in Paris, its capital and most famous city. After all, I can't think of France without thinking of the Eiffel Tower, can you?
Nevertheless, there are so many other monuments in France worth seeing, too. They're sprinkled over the entire country. The region of Normandy is most often associated with World War II, and many people go there to see the D-Day beaches where the action took place.

I've personally renamed The Loire Valley, "Valley of Gigantic Castles," due to the many chateaux that call it home. One of the most popular is Château de Chambord, and also well known is Château Ussé, since it inspired the story of Sleeping Beauty.
The ever-popular city of Monaco, in the French Riviera has one of the oldest palaces, Palais de Princier, which the royal family still lives in. It also has many other famous buildings, which film star Grace Kelly often visited, after she married the city's Prince. People who loved Grace Kelly flock to Monaco every year to see where she married, lived, and eventually died.
Regardless of what city you're in, there are many famous buildings and monuments to see. The list below is some of the most famous French monuments, and you can always browse by city or region.