What in the world is VE Day? You might not have heard of this holiday, as it is not celebrated in some parts of the world. But it is an important holiday to Europeans and many other nations.
"Victory in Europe!"
"The War Has Ended!"

"It's Over!"
These are just some of the headlines that ran in newspapers around the world on May 8, 1945. Mostly known as VE Day, or Victory in Europe Day, it is also sometimes known as Liberation Day, especially in Germany.
---
What is it?
Victory in Europe Day is celebrated on May 8 and is an important holiday to many European nations. It marks the official end of World War II, and the end of Nazi Germany.
In Germany, the holiday is known as Liberation Day, in which the country celebrates the the day of liberation from the Nazi government and Adolf Hitler's Third Reich.
---
Why it's Important
VE Day is a national holiday in many of the former allied countries. It commemorates the day the Allies formally accepted the unconditional surrender of the armed forces of Nazi Germany.
It is a very important holiday for most nations, as it marks the end of the Holocaust and Hitler's Nazi regime. On May 8, nations commemorate soldiers lost to the war, as well as the victims of the most massive genocide of all time.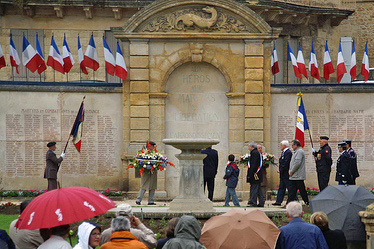 May 8 is celebrated in Europe and around the world not only to remember those who fought, and those who lost their lives, but as a reminder of man's cruelty towards one another.
For World War II veterans and victims of the Holocaust, Victory in Europe Day is a holiday very close to their hearts. As time goes on, these veterans and survivors will be gone, but the day of liberation will live on in the hearts of citizens in many countries.
---
How it's Celebrated
Around the world, as in France, Victory in Europe Day is celebrated with parades and ceremonies. It holds major significance for the French, since the act of military surrender of Nazi armed forces was signed at Reims on May 7, 1945.
On May 8, 1945, massive celebrations took place across the globe on the first day of liberation, as allied forces celebrated the end of the European war.
Today, it is celebrated much like other patriotic holidays – with parades and religious ceremonies, and French flags fly high.
Wreaths and flowers are also abundent, and ceremonies take place across France, as citizens remember World War II.
In Paris, the French President and veterans attend a celebration on the Champs-Elysees, complete with a military parade and wreath laying ceremony at the Tomb of the Unknown Soldier.